Form Versions
Contents
About Form Versioning
Each time changes are made to a form and it is deployed, it is saved as a new form version.  Old form versions are saved in an Archived state and are retained indefinitely.   These archived versions are an invaluable reference when problems are encountered with a form; administrators can look at archived versions to determine what form version the problems originated in and narrow down the cause.  Administrators can also revert to an archived version of a form and make it the active version.
Only current Draft

A draft form is a partially filled-out form saved on a device, or a preliminary version of a form that's been saved but not deployed in the Form Builder. versions of forms are saved; once a Draft version is deployed the draft will no longer exist.
Note: To find the Form Version ID, follow the instructions listed here.
Version History
To view a list of archived versions of a form, as well as the active version and any current drafts:
Mouse over the Manage Forms tab, confirm that you are in the desired FormSpace, and select the desired form.
Mouse over the dropdown beside the form name.
Select Version History.

The resulting page will list the various form versions from newest to oldest.  To delete or copy a form version, mouse over the desired version and select the option from the icons that appear at the right. The options, from left to right, are: Copy, Copy Configuration, and Delete.
Deleting form versions, whether Active or Archived, is not recommended; related data records will be lost and users with the deleted version on their device may encounter problems.
Adding/Viewing Version Notes
When selecting "Save Draft" or "Save and Deploy" in the Form Builder

The Form Builder is the tool that form designers use to create forms. In the Form Builder, accessed from the ProntoForms Web Portal, form designers can add and edit pages, sections, and questions, as well as attach data destinations and configure the form's settings., you have the option to add Notes. These are useful to track changes between form versions. The screen to add notes in the form builder looks like this:

The Version History page shows the notes in a column to the right: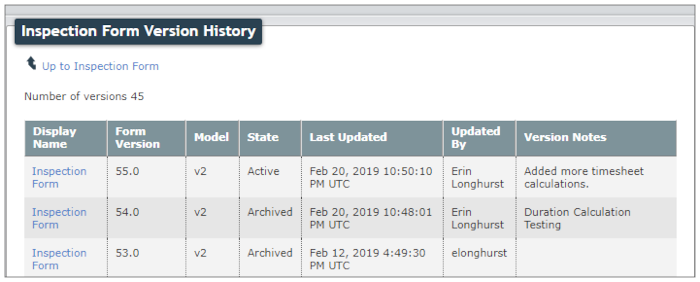 Making an Archived Form Version the Active Version
In the event that a new form version is accidentally created, or for any reason an organization needs to revert to using an old version of a form, an Archived version can be made into the Active version of the form.
The recommended method for doing this involves copying the Archived version as a new version.
View Version History as noted above.

Mouse over the archived form version.

Select the Copy icon that appears on the right.
Configure: