Question Type: Digit Extraction
About
Digit Extraction is used to pull numbers from mixed alphanumeric characters, phrases, or strings. 
Digit Extraction is often used to make unique invoice numbers by combining extracted numbers with other answers in a form. Use it to pull pieces of information out of longer strings, such as addresses or project numbers.
To learn how to use Digit Extraction to create unique reference numbers, please read more here.
An example of a Digit Extraction question is shown below on an iOS device: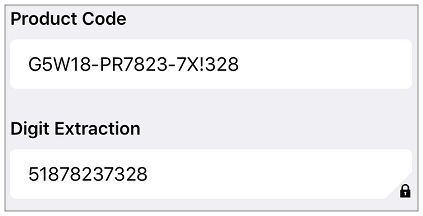 Form Builder
In the Form Builder, the Digit Extraction question type appears as shown below:

The Question Edit screen for Digit Extraction has 3 tabs: General, Properties, and Help Options

Help Options are ways to add help content, such as YouTube videos, web pages, text, or images, to questions in a form. Mobile users simply tap the help icon next to a question to see the help that the form designer provided.. This article will go through each of the tabs.
General
Unique ID 
The Unique ID

A Unique ID refers to the specific identifier of a question, form page, form section, or Data Destination. Unique IDs are used as reference points when pulling data for conditional logic, Analytics projects, Data Destinations, and Documents. is the reference for the question. For more information on Unique IDs, read: Overview: Unique IDs. It can either be auto-generated based on the question text, or customized.
Restrictions
Restrictions control how your mobile users interact with a question. They can be set on the question itself, or controlled by Conditional Logic.
| | | | | |
| --- | --- | --- | --- | --- |
| | Required | Read-Only | Hidden on Device | Hidden in Reports |
| Digit Extraction | ✘ | ✘ * | ✓ | ✓ |
* This question type is Read-Only by default because the mobile user cannot directly edit the answer; all information comes from previous answers.
Properties
Properties allow you to set up your question in various ways. With Digit Extraction, the Properties tab is where you set up which questions you will be pulling information from, and how that data will be formatted or extracted.
Our example below would pull the year, month, day, and time (in 12-hour format) from the Date/Time Question, and combine it with the Site Contact Phone Number. For example, if the answer to the Date/Time question is:
December 19, 2018, 5:27PM
And the Site Contact Phone is:
4165550134
Then the answer to the Digit Extraction question would be:
2018121905274165550134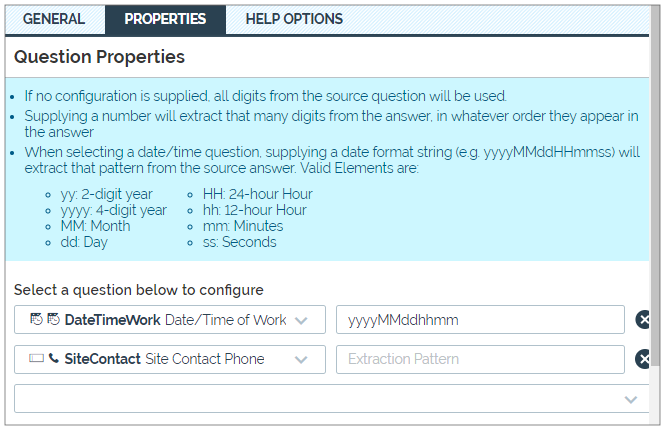 Each dropdown allows you to select an appropriate question to extract numeric digits from.
The Extraction Pattern box allows you to set either a pattern of extraction, as in the case of Date/Time questions, or set a limit on the number of digits extracted.
If extracting from a date/time question, set a date format string (eg yyMMddHHmmss) to extract that pattern from the source answer.  Valid formats are listed in the Form Builder, as shown above.
Help Options
Adding "Help" content to forms gives mobile users access to support and other resources out in the field.  Help content is available to users through a button embedded beside a question.  Any question in the form can include a link to Youtube videos, web pages, or HTML-formatted work instructions. 
For more information on Help Content, please read: Adding Help Content to Questions