User Profile
Contents
About
Pronto Users can manage and administer their own accounts in the ProntoForms web portal. The User Profile settings affect anything from what language the web portal is displayed in, to what forms the user has access to.
To view your user profile, select the User Profile option from the dropdown beneath your username. If you are a ProntoAdmin viewing another user's profile, navigate to Users & Groups > Users and either select the desired user from the list, or select List Users and find the correct user from the list to view their profile.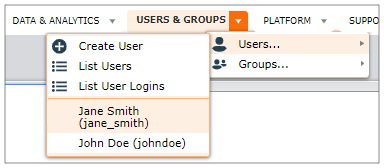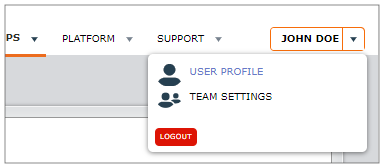 Viewing the User Profile
The user profile has four tabs: Account, Permissions, Devices, and Activity. Admins can also use the dropdown next to the username to View Latest Portal Logins from a user.
Account
This page summarizes the user account information. It lists:
The user's role: The user's role controls their access to the product. Note that adjusting this will affect what form submissions they can view in the web portal.
Subscription and Max Active Devices: What type of subscription the user is on, and how many devices they can have logged in before one is deactivated.
Activity: When the user last logged in to the web portal, when the user last reconciled a device, and their last form submission.
The Contact information for the user, such as their phone number, email address, and so forth.
Organization: If configured, the Organization box displays information on the user's role in the company or organization, such as Employee ID, Supervisor's name, or other relevant information.
Permissions
Permissions control:
What forms users have access to on their mobile devices,
What access users have in the web portal (beyond what is configured by their user role).
User Groups
This shows what groups the user is in, and if the user has special user permission in these groups (data record listener, etc)
User FormSpace Permissions
This shows what forms the groups the user is part of have access to, and what kind of access they have to these forms.
Devices
This tab lists the user's active devices and past devices. Note that by default, users are allowed three active devices per account. Logging in on the mobile app with a new device after three will deactivate the oldest one.
Activity
This tab shows the user's recent data record submission activity in both chart and tabular form. Shown below is the chart form: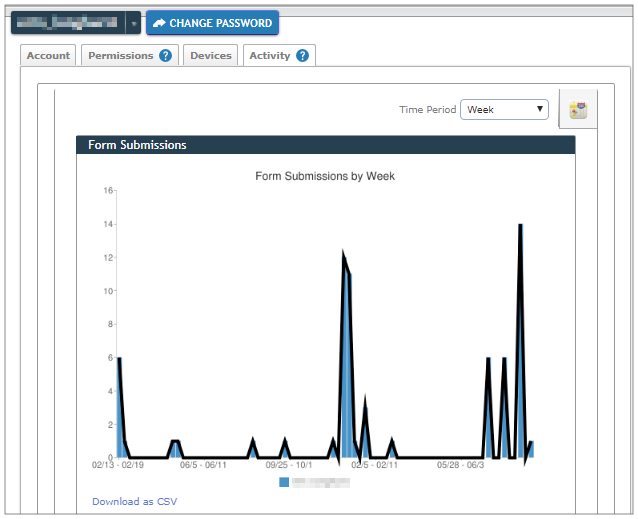 Editing the User Profile
Need to update your company information, or contact info? You can edit your own profile, and ProntoAdmins can edit the profiles of anyone on their team.
To edit your profile, select Update from the dropdown menu next to the username.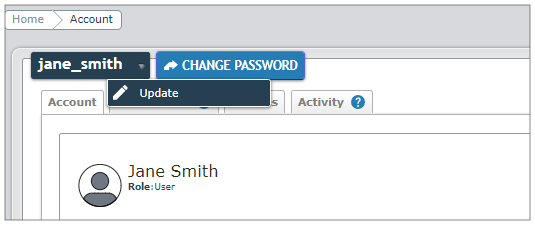 When editing the user profile, you have access to the following tabs:
Account
Update the information relevant to your ProntoForms account and integrations here.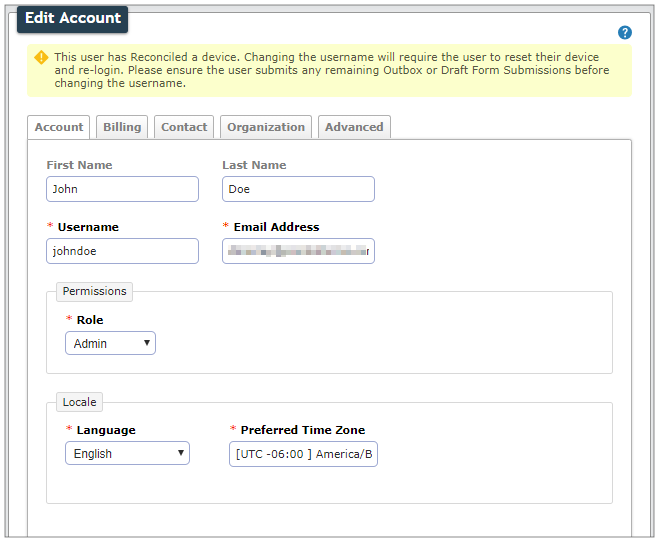 First and Last Name: This is used on submissions, documents, etc., and can also be referenced using DREL

Data Reference Expression Language (DREL) is used to get form data and metadata and add it to a string, such as dates, usernames, or answers to questions in forms.'s %u[name] format.
Username: (Admin only) Changing a username will require the user to re-login to their device if they have previously logged in and reconciled a device, causing them to lose any in-progress work. ProntoForms highly recommends retaining the same username once a user has begun using their account.

Email Address: The user email address is used primarily to help users access and recover their account if they forget or need to reset their password, and is also used in email destinations.
Role: (ProntoAdmin only) The user's role controls their access to the product. Adjusting this will primarily affect what they can view in the web portal.
Language: This setting controls what language the web portal and form builder are displayed in. For more information, please read ProntoForms Language Support.
Preferred Time Zone: For more information, please read: Timezone Settings: User Profile.
Contact
This tab allows you to set optional personal contact information for the user, such as an alternate email address, phone number, and address. This information will be available in the User Data Source and User List CSV Export.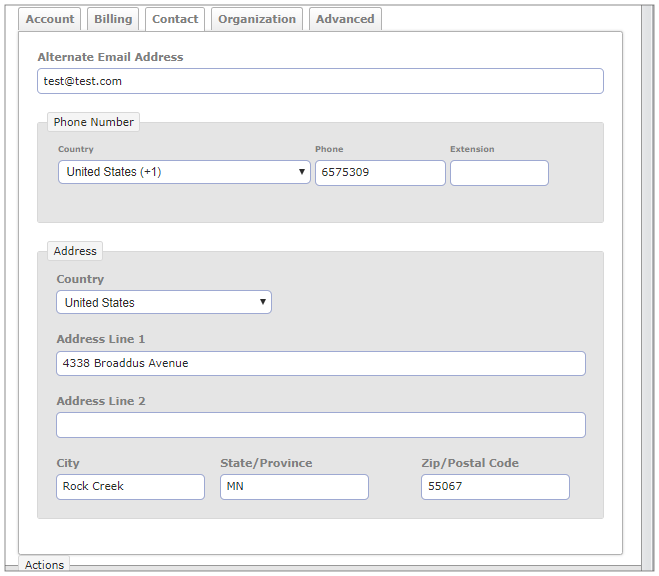 Organization
Add optional information that may be useful to identify users within their team's organization, such as who their Manager is, or their Employee ID. This information will be displayed in any User List CSV Export or User Data Source.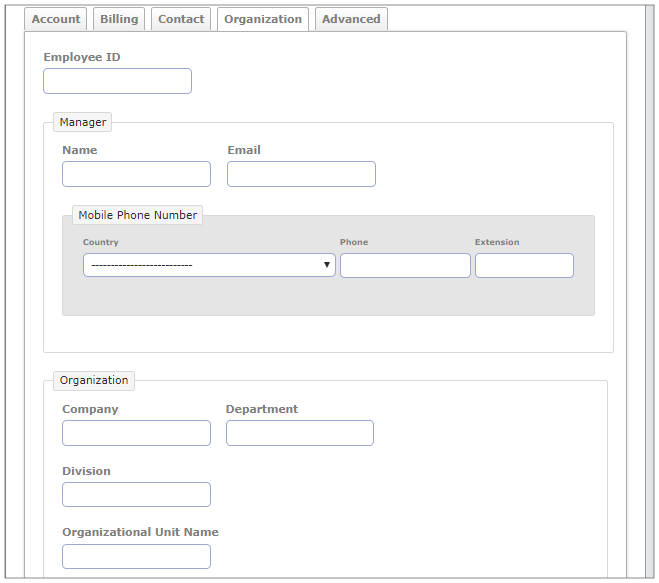 Advanced
Add or edit system aliases,
control whether the "Get Started" tab appears,
set page size (i.e., how many results are on a page), and
set what character is used to separate entries in a CSV export initiated by your user.